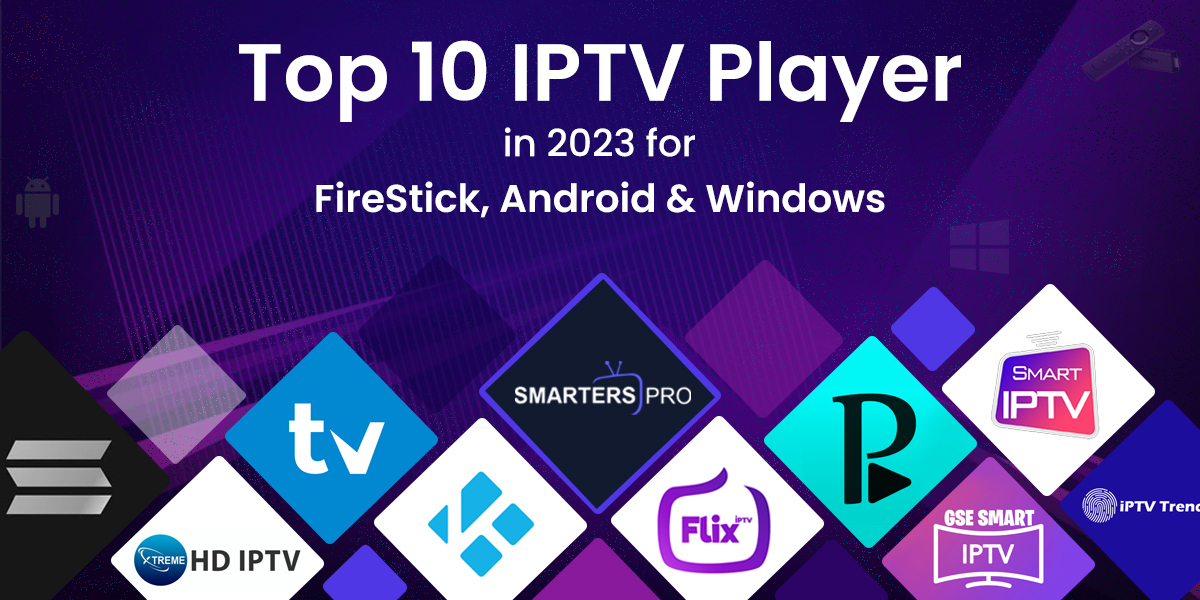 In this digital era, IPTV Players come with outstanding transformation in how we experience entertainment. It entertains your audiences everywhere, any place, any time, any device. 
IPTV Players offer various features and specifications; users can watch live television, stream their favorite shows, and stream services online. 
With different selections available, selecting the right IPTV player can be enormous. This blog will describe the top 10 IPTV players for FireStick, Windows, and Android, primarily focusing on Smarters Pro. So, let's read the article to know!
UNDERSTANDING IPTV AND ITS FUNCTIONALITY 
Instead of using broadcast TV, Cable Tv, or satellite signals, IPTV uses the Transmission Control Protocol suite to deliver television programming and other visual material. 
A service provider often offers an IPTV service that transmits live TV or on-demand video content through IP networks. 
It is possible to utilize an IPTV system to deliver video content through a private network in an organization; however, due to complexity, network latency, and scaling concerns, such implementations are much less prevalent than subscriber-based models.
Exploring the Top 10 IPTV Players for FireStick, Android, and Windows
Let's embark on a journey to uncover the top 10 IPTV players tailored for FireStick, Android, and Windows platforms.
SMARTERS PRO: 
For an unparalleled experience on FireStick, Android, and Windows, Smarters Pro stands as an exceptional choice. This software empowers users to stream live TV channels, movies, TV series, and more. Available across Windows, Android, and FireStick, Smarters Pro redefines entertainment.
TIVIMATE:
TiviMate, celebrated for its functionality and remarkable features, garners praise from Android users. Its support for multiple playlists and seamless EPG integration elevates the viewing journey.
KODI: 
Windows users seeking more than just IPTV are inclined towards Kodi, a versatile entertainment hub compatible with Windows, iOS, Android, and Linux. With a user-friendly interface designed for television and remote control, Kodi offers a rich multimedia experience.
MYIPTV PLAYER: 
MyIPTV Player, a free media player, enables users to access a variety of IPTV channels and video-on-demand content. Its integrated EPG enhances navigation, presenting an on-screen menu for streamlined content discovery.
GSE SMART IPTV: 
Boasting versatility with multiple format support, GSE Smart IPTV offers a user-defined advanced solution for live and recorded TV streams. With compatibility across options and formats, including RTMP, GSE Smart IPTV is an effective choice.
IPTV EXTREME IPTV: 
Extreme emerges as a dependable Android player, boasting an intuitive interface and seamless playback. Additional flexibility options provide enhanced customization.
OTT NAVIGATOR IPTV: 
Known for its aesthetic design and user-friendly navigation, OTT Navigator IPTV captures the attention of users, especially the younger demographic. It supports various IPTV services, ensuring an engaging streaming experience.
PROGDVB: 
ProgDVB stands as a robust player supporting diverse formats and delivering excellent streaming quality on Windows. Features such as PVR support enhance its functionality.
FREEFLIX TV: 
FreeFlix TV gains traction among Windows users due to its user-centric interface and extensive channel lineup. Integration with popular streaming services adds to its appeal.
PERFECT PLAYER: 
Perfect Player mimics a set-top box style, offering an IPTV/Media player experience across TVs, tablets, and smartphones. With multiple streaming options and seamless FireStick compatibility, Perfect Player enriches the streaming journey.
CONCLUSION: 
To conclude the blog, choosing the right IPTV player is very important to enjoy the streaming experience. 
Among various options, Smarters Pro stands out of all of them. It's a fantastic option for FireStick, Windows, and Android. If you want a smooth streaming experience, IPTV Smarters will help you with all your features. 
Entertainment has reached new heights with the help of IPTV services, giving a broad collection of content at your fingertips. So, make an informed choice, and improve your streaming experience with the best IPTV player!