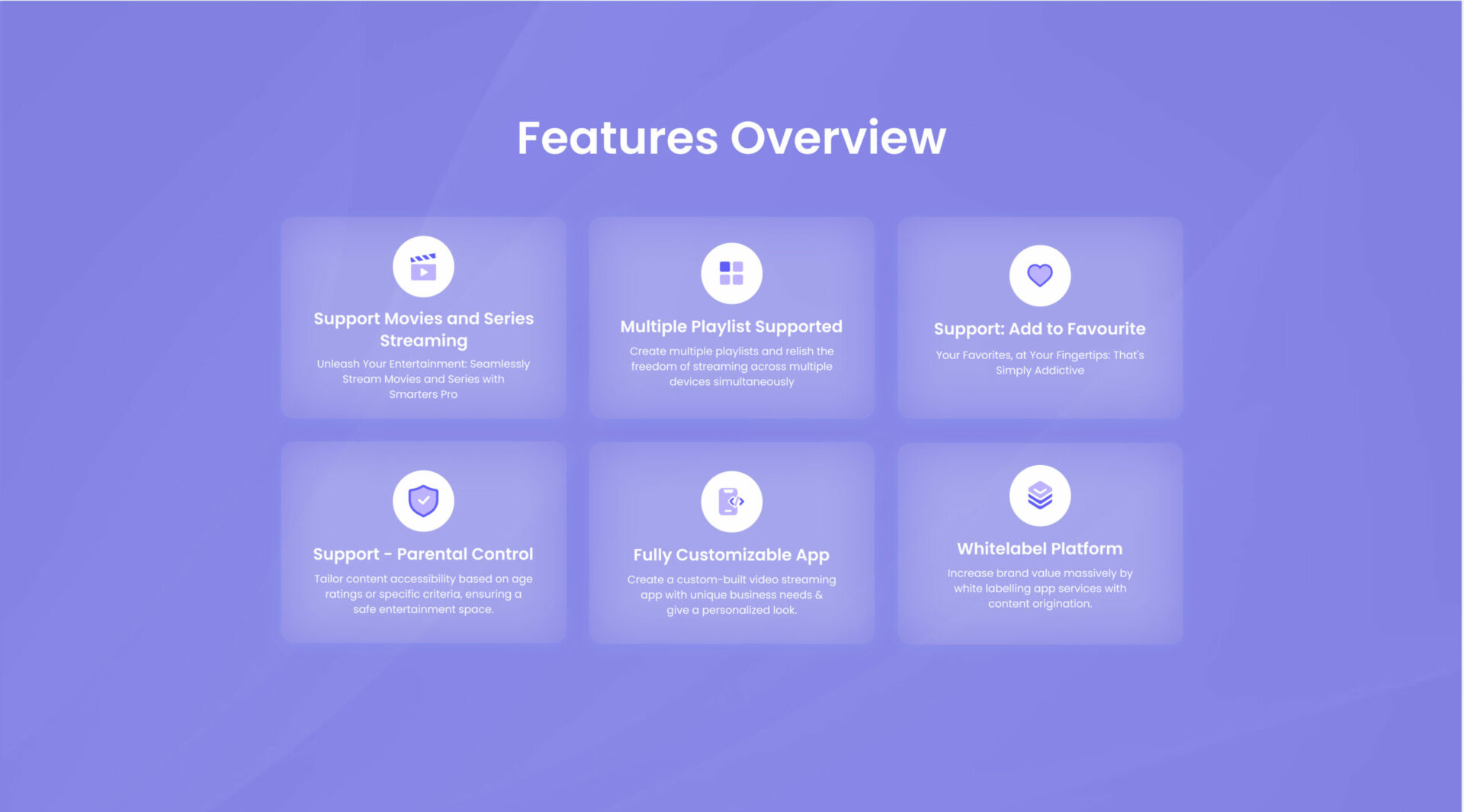 In the world of seamless entertainment, Smarters Pro stands as a beacon of innovation. This feature-rich player elevates your streaming experience in myriad ways.
Let's take a deep dive into discovering the exciting features that make Smarters Pro truly impressive:
Seamless Streaming: 
Live, Movies, and Series Prepare for an immersive experience – Smarters Pro seamlessly supports live TV channels, movies, and TV series streaming. It's a treasure of entertainment at your fingertips.
Empowering Parental Control 
Foster a secure viewing environment with robust parental controls. Tailor content accessibility based on age ratings or specific criteria, ensuring a safe entertainment space.
EPG Guide Integration for Effortless Navigation 
Navigate the TV landscape effortlessly. The integrated Electronic Program Guide (EPG) provides schedules and channel lineups, ensuring you never miss a beat.
Master Search: 
Content at Your Fingertips Lost amidst a sea of content? Fear not! Our Master Search feature allows you to pinpoint specific content across movies, series, and live TV channels with precision.
Seamlessly Pick Up Where You Left Off 
Continuity meets convenience. Smarters Pro tracks your viewing history, enabling you to seamlessly resume from where you left off. Plus, effortlessly access your favorites.
TV Catch-Up Streaming for Uninterrupted Viewing 
Stay in the loop with TV Catch-Up. Enjoy streamed access to previously aired TV shows or episodes, ensuring you're always up-to-date.
Multi-Playlist and Multi-Screen Flexibility 
Expand your horizons effortlessly. Create multiple playlists and relish the freedom of streaming across multiple devices simultaneously.
Your Local Media, Integrated 
Experience beyond online content. Smarters Pro lets you enjoy locally stored audio and video files, all within the same platform.
Seamless Chromecast Integration 
Elevate your experience to the big screen. With Google Chromecast integration, casting content to TVs and compatible devices becomes a seamless affair.
Flexibility with External Player Integration 
Have a preferred media player? No worries! Smarters Pro seamlessly integrates with external players, giving you the flexibility you desire.
Take Control of Your Playback Experience 
Be the maestro of your entertainment journey. From play and pause to adjusting playback speed, Smarters Pro puts the power in your hands. Picture-in-picture mode and recording capabilities? Yes, those too!
Effortless Episode and Channel Navigation 
Navigate with ease within the player interface. Access episode and channel lists effortlessly as you explore your chosen content.
Pick Up Where You Left Off 
Life's interruptions needn't disrupt your entertainment. Smarters Pro lets you seamlessly resume specific TV episodes or movies right from where you paused.
Dynamic Language Switching 
Personalize your experience linguistically. Smarters Pro's dynamic language switching lets you transition between interface languages and subtitles effortlessly.
MultiDNS Support for Broader Horizons 
Expand your horizons further with MultiDNS support, allowing Smarters Pro to connect to multiple panels or sources for your streaming delight.
At every turn, Smarters Pro redefines possibilities, blurring the lines between imagination and reality. Immerse yourself in a world where entertainment knows no bounds – Smarters Pro opens the gateway to a revolutionized viewing experience.